I absolutely love these ornaments, if I had the time my entire tree would be covered in crochet angels and ball ornaments. Because of these ornaments I am now attempting to decorate my tree entirely in white and silver, of course that does not include my nativity ornaments, those have to go on the tree.
https://www.etsy.com/listing/117317162/cathedral-angel-and-ball-ornament-pdf?ref=shop_home_feat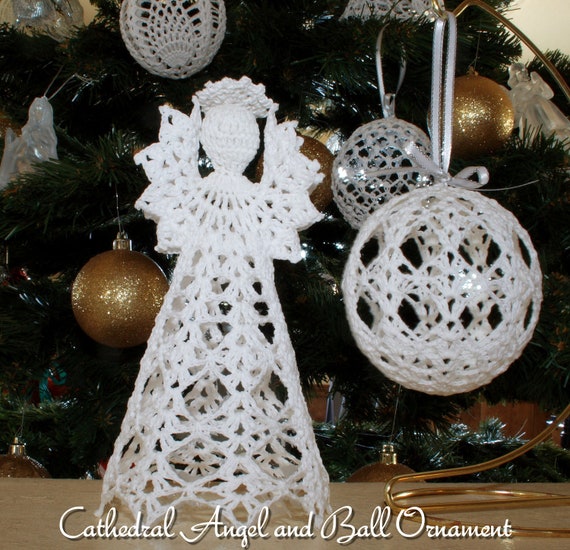 https://www.etsy.com/listing/165345728/christmas-pineapple-angel-and-ball?ref=shop_home_feat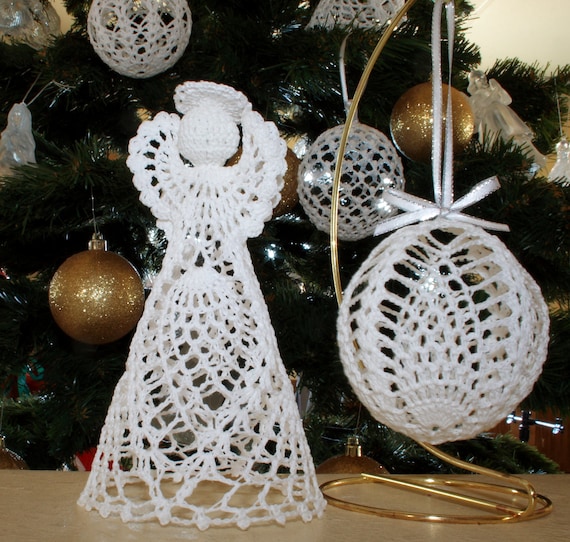 I was originally inspired to design these ornaments after seeing this one on ravelry
http://www.ravelry.com/patterns/library/satin-ball-ornament-covers
I didn't want them over an ornament, so I tried starching them with a balloon inside, but I made the mistake of using an orange balloon (looks cool but over time it changed to an ugly brown) so I made 2 more making sure I used white balloons.
http://www.ravelry.com/projects/annastasia76/satin-ball-ornament-covers-2
I then started experimenting and found this snowflake pattern. http://www.ravelry.com/patterns/library/charmed-snowflake-ornament-and-picture-frame I made 2 of them conecting each top point at the bottom v of the other, starched it and look at how it turned out, Love it!!! It's not a perfect ball but still beautiful.